STORY
Cafe Terroir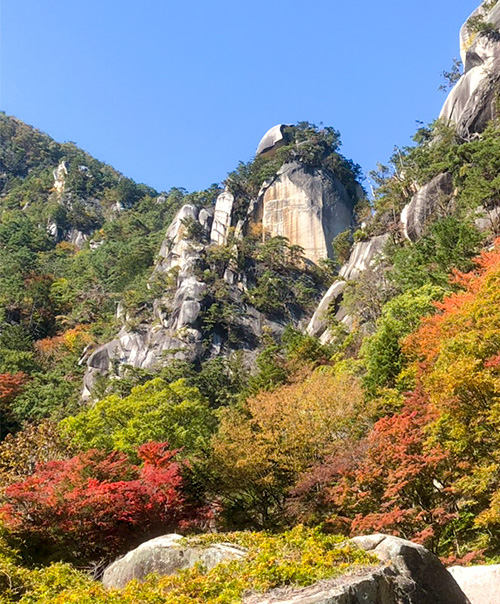 Kakuenpo Peak in Shosenkyo Gorge
Cafe Terroir, a healing café at Mitake Shosenkyo Gorge in a national park
Shosenkyo is said to be the most beautiful gorge in Japan and is also famous as a power spot where crystal quartz used to be excavated. Blessed with abundant nature, the gorge produces a natural spring water which has been listed as one of the best 100 spring waters of the Heisei era.
In spring, you can enjoy the light green color that is gentle to your eyes and soul. In summer, the cool air provides a retreat from the heat, and in autumn the surroundings of this area at the bottom of the gorge completely turn red and yellow. In winter, you can get the most beautiful view of Mt. Fuji and the gorge filled with calmness creates a landscape looking like an India-ink painting. This is a beautiful area whose vivid colors change from season to season.
The name of our café and logo express our wishes in running a café at this beautiful Shosenkyo Gorge. The blue circles in the upper half represent Mt. Fuji capped with snow. The word Terroir, which is the name of our shop, means land, place, environment, or climate in French. The purple and pink circles in the lower half represent grapes and peaches, respectively. Overall, the logo represents our wishes to make visitors happy enjoying the delicious fruit, sweets, and wine of Yamanashi here at our café.
For this reason, we remain selective about our ingredients, trying our best to use Kofu or Yamanashi-produced ingredients which are fresh, delicious and safe.
At Café Terroir, try to release yourself from the busy everyday life and breathe in the fresh air to fill your body.
Enjoy a slow and relaxing time while watching from the wooden terrace the nishikigoi, or colored varieties of carp, swimming in the pond, or walking around the shop to see the crystal pieces kneaded into the walls glow gently.